Monthly Newsletter
January 2018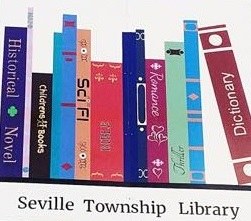 LIBRARY OPEN HOUSE/BOOK SALE
Dip Into a Good Book! Join us February 3, from 12-2 PM, for our Library Open House. There will be door prizes, a photo op station, 3D pens activity center, an assortment of goodies, and a one day book sale! 

We have been so busy these past few years revamping the library and working on our upstairs area to create more usable space for our Patrons! What better way to showcase this than with an open house!
Santa come to town...
Early in December, Santa come to the library for a quick little visit. We had an absolute blast hosting the jolly man!

December was a nice month filled with holiday cheer. A big thank you to our wonderful patrons who dropped off goodies and came to say hello to the library. We appreciate the snacks, but we appreciate you (our patrons!!) even more. Thank you for making our 2017 year perfect.
Upcoming Events
January 17, 5-6 PM: Color and Listen
February 3, 12-2 PM: Library Open House/Book Sale
February 14, 3:30 PM: Movie Matinee - Wonder (PG)
February 21, 5-6 PM: Color and Listen
February 28, 3:30 PM: Movie Matinee - Pixar: Coco (PG)
GO ON A BLIND DATE WITH A BOOK

All throughout the month of February, we will be having blind dates....with a good book. Each book will be wrapped in plain paper with only the genre written on it. Will you find the next love of your literary life? Will you discover a new author that is amazing? Then stop by at the library all through February and grab a blind date book!
When the weather outside is frightful....
Give your friendly librarians a call to renew your library materials over the phone! No need to drive on ice and snow when a quick phone call will do.
989-833-7776