Welcome to the Seville Township Public Library
Welcome to the Seville Township Library- your hub for all things library related. 
Sign-ups for 2017 Summer Reading Program is going on. Click here for a flyer on what programs we have to offer.
Music and Movement Mondays
Summer Maker Program Tuesdays
Wacky Wednesday's
Friday Films
August is Family Fun Month!
Celebrate by "checking out" a FREE or discounted admission passes (or other exclusive offers) to hundreds of Michigan state parks, campgrounds, museums, trails, arts & cultural destinations, and more.
All you need is your library card!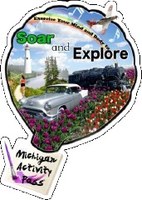 FOLLOW US